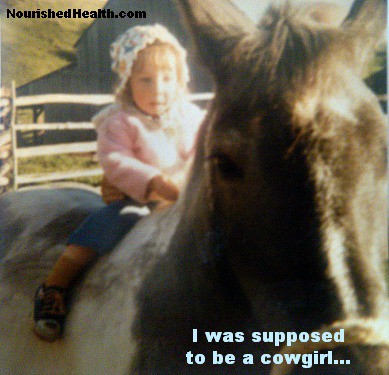 My parents divorced when I was four and I was raised by my mom. Although my mom took me to visit my dad a lot growing-up, he still got to be the cool parent that wasn't there for the real stuff—my first heartache, the first friend to commit suicide, my first and only broken arm, my first wrestling match with addiction and all my other firsts.
My dad is a cowboy. A true Montana mountain man. He is hardened. He drinks too much.  He doesn't share his emotions. He is so far right-wing that we actually agree on those things that make me very far to the left. He is always there for those who ask for his help. We disagree. I disappoint him. He disappoints me. He watches Fox "News" (constantly). We drive each other absolutely crazy. We don't understand one another. He is my dad.
In January, we talked on the phone and he told me something unexpected. He simply said, "You know, I'm proud of you" and my heart flew high. Those are the words every child yearns to hear from a true Montana mountain man. Heck, those are the words that a child of any type of man covets.
Following that, he told me I should visit him again and quickly following that his voice changed and he spitted angrily at me, "but you never, ever, ever will visit me ever again!"
For the first time in my life, I recognized the utility of his spiteful words. These words that his subconscious had chosen so carefully were for a purpose. The purpose was to create separation, used to anger me and divide us. They were not spouted recklessly but instead held purpose and I smiled with pure glee and I chuckled carefully into my mouth and my eyes glinted with tears of awareness. I took a breath from a different place inside of me–from the deep recesses of my familial history, stored in my cells. Finally.
My dad—the tough, true Montana mountain man—was scared. My dad—the rugged cowboy who lacked emotion—allowed his facade of masculinity to be breached. My dad's vulnerability had gently oozed like a spring breeze through the beetle kill pine trees of Montana into the bustling streets of Denver. And for the first time, unlike all of our other word shoot-outs, I recognized it.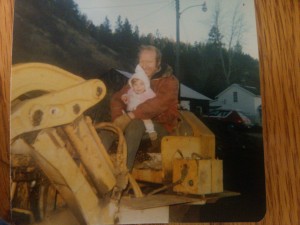 My dad was scared, because he had expressed that he was proud of me—me the daughter that was not a cowgirl, who was not married, who thought more than she drank, who can't sing a lick, who is a foodie, who loves the city, who cherishes her health, who doesn't need a man to be a woman and who is absolutely nothing he would have ever chose to have in a daughter. He was proud of me and he let that slip and his own vulnerability bit him in his scared Montana mountain man ass.
And for once, I didn't retaliate, I didn't recoil and I didn't prepare to fire a round in return. Through lips spread with a smile of glee, I said "that was silly and I would visit this spring." And for once, our conversation didn't become a feud of misunderstandings, but a silent knowing on both of our parts that our relationship had changed and that we had just taken a much-needed step in the father-daughter relationship.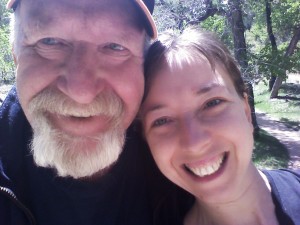 And so now it is April and while I wrote most of this from his house, I worked to remember my knowing of his vulnerability and tried, with all of my might to recognize my own triggers and to allow our relationship to continue to grow. I won't claim that it was easy or that I even succeeded. But I tried.
I share this extremely personal story with you because it illustrates one of the keys to living an anti-inflammatory lifestyle and that is coping with family stress. We all get triggered by our family members and we all have challenging relationships in our lives and sometimes we need to take a step back and recognize where someone is coming from and why they are challenging our triggers in a specific way. Recognizing someone's defense mechanisms and their construction of walls is a tool that can help us be more empathetic and not be triggered so easily.
Stress causes our body to release the extremely inflammatory hormone, cortisol, which when done regularly is detrimental to our brain, our adrenals and our digestive health. One of the biggest stressors in our lives is family stress and relationship stress which are often stressors that we create ourselves through our own interpretations of those relationships. We cannot control another person's actions or words, but we do have dominion over our own responses to their behaviors and putting on goggles of awareness of triggers (yours and theirs) can help in this challenge.
So how is this done? Well for me it rode on the back of a meditation retreat that offered me clarity, pause and a break from critical mental self-chatter. I would love to hear your insights in the comments below on how you accomplish it yourself.
The first and most important step is to pause after being triggered and breathe, deep from your diaphragm, quieting your mind so that you are open to awareness and do not respond verbally, but just wait.
Second, in that moment of waiting, is to begin asking questions of yourself and your subconscious. Ask yourself what benefit the family member or friend who just triggered you receives from triggering you. This benefit may be something that subconsciously supports a level of comfort in their life, such as reinforcing a way of their being. Is the person acting out of fear? How can you calm that? Is s/he protecting herself and how s/he sees the world? How can you be gentle as dismantling a person's world-view can be startling and overwhelming? Does s/he need to feel right because of how s/he made herself feel wrong elsewhere? Is s/he pushing you away to protect herself? Does s/he feel challenged or triggered by you? There are so many possibilities, unique to you and that person, at that time, in that experience.
The resulting awareness from these questions is what gives you the grace to continue your relationship through a new lens of awareness that does not result in the release of stress hormones and ignite an inflammatory immune cascade in your body. This awareness provides an almost giddy release and an excitement in knowing. Does it cure what ails a relationship? No. But it offers you new perspective and prevents your being triggered as easily in your exchanges and that decreases the stress in your life, which in turn, decreases the inflammation your body endures.
My dad saw me off for my flight back to Denver and we gave each other one last hug and he said, once again, "you know I am so proud of you and I love you" and we hugged and I left to go through security. There were no words following that from either of us. Just love, appreciation and the vulnerability of a blossoming, grown-up, father-daughter relationship.