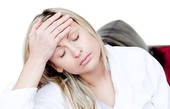 It's 3pm. You are at your desk at work. You can hardly keep your eyes open. The day seems like it's barely dripping by.
Ahh dripping…visuals of coffee are conjured. Coffee… Yes. That will give me energy. Coffee… Ooh and maybe there's still a donut left in the break room that the sales guy dropped off at 10am. Oh wait… Maybe there's still a piece (or two) of cake with that pink frosting left over from Marge's birthday party break at 1! Yes, that's it by golly. I'll have coffee, a donut and cake…. Then I'll be awake… Then I can make it through the rest of my day.
Sound familiar? This is a story I hear over and over again confessed from clients, usually accompanied by much embarrassment. The loss of control, as though a demon takes over, at 3pm EVERY day. EVERY day it seems that people all over get "the afternoon slump," where they have no energy and turn to sugar and refined carbs, unconsciously to boost their energy through a boost in blood sugar.
So there it is… Balance your blood sugar before 3pm so that you don't unconsciously crave sugars to boost it when it's low. That's it. But how, you might ask…
13/13