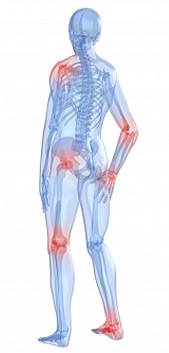 So you may find it strange that a Digestive Health Specialist is writing about pain relief and arthritis… Hmm… Well, what does that tell you? 🙂
What is Arthritis? And why are you lumping other forms of pain in with it?
The word "arthritis" simply means "joint inflammation." There are generally believed to be two types: osteoarthritis and rheumatoid arthritis. Osteoarthritis is inflammation caused by degeneration of the joint and is due to chronic wear and tear—often of the knees. Rheumatoid arthritis is an autoimmune condition characterized by inflammation, pain and swelling of the joints—often in the hands.
Chronic experiences of pain, be it arthritis or some other form, are most often amplified, if not caused by, inflammation.
7/7