Some of you that I hang out with on Facebook have already heard…. I ate gluten on Saturday! No, I didn't get cross-contaminated, I straight-up ate wheat!
By choice? No.
By my own flagrant stupidity. Yes.
I'm one of those annoying people to eat out with that asks the servers a gazillion questions and after they answer, I ask the same questions (possibly reworded). People who live the carefree life of eating whatever they want tend to not so enjoy eating out with me! Let me tell you… It makes for some awkward first dates!
There is a restaurant in Denver where I eat fairly often and have never been cross-contaminated, never had the server roll eyes at me, never been given the confused look for asking about types of ingredients or cooking processes and never received exasperated sighs of frustration as my order more resembles an algebra problem than a meal—"Can I have x without y, except for when z is present? Please?"
So as is usual, we ordered food, informing our waiter that we are severely gluten sensitive and confirmed that she wrote down our gluten status on the ticket. She however, forgot to type-in "gluten free" when she entered our ticket into the system for the chefs.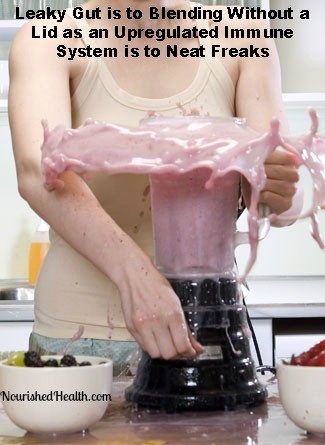 If you have food sensitivities—you have leaky gut. If you have bacterial overgrowth, candida overgrowth or a parasitic infection—you have leaky gut. If you have an autoimmune disease, you at one time had leaky gut and may still have it. Hyper-permeability of the small intestinal mucosal lining or leaky gut syndrome (LGS) is extremely common yet rarely diagnosed. It is responsible for autoimmune diseases (not just celiac disease and inflammatory bowel disease), all food sensitivities (not just those with gastrointestinal-type symptoms) and the development of all sorts of nasty opportunistic critter take-overs. It is even a causal factor in psoriasis and the autism spectrum! So what say you? Shall we get our gut junctions closing again—stat?
6/10