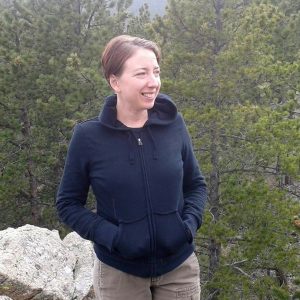 I was in private practice full time for almost 10 years as a Functional Medicine Nutritionist, Clinical Herbalist and Therapeutic Chef specializing in autoimmune conditions and the gut-brain axis, before a near death experience in Alaska propelled me to reassess my beliefs with the interconnectedness of all things, where healing stems from, and the causes and conditions that manifest in illness, trauma, and pain.

I now recognize the deep interdependence between the healing of our core being to the healing of our oceans, forests, and all bioregions along with our direct environments (socially, ecologically, culturally, etc). I experience now that the persistence of disease states has so much more to do with a loss of self, of our identity, and our soul place than merely as a result of inflammatory foods and cytokines. I've expanded my awareness around the interplay of disease states, autoimmunity, and our energy meridians; the interconnection of all life and all energy; and the effect of our emotional, psychological, and spiritual well-being on our health generally and more specifically on our digestion and immune systems.
I still focus on the ways we choose to nourish ourselves, though now I see that nourishment goes beyond nutrition. I still promote anti-inflammatory nutritional choices and heartily endorse the benefits of collaboration between practitioners of Western, Eastern, functional, folk and energy medicine, and the seen and unseen world. To expand the support of myself and of my clients to get to the true root of health and life challenges, I've spent the last several years intensively studying shamanic practices, including Medical Qigong and Chinese spiritual medicine, Celtic and Brazilian practices of vocalization and sound, Japanese practices of energy healing, and diving deep into the psychology of anxiety and depression, trauma recovery, the grieving process, and mindfulness practices. We are such complex beings and diagnosis, recovery, healing, and our soul's journey is equally complex and multifaceted.

My calling is to help you look within and heal your relationship with your soul, your body, and your health, to reconnect you to your inner truth and the environment, and to empower you to live with vitality an embodied life that truly lights you up from a place of knowing and self-confidence.

Degrees and Certification Trainings
Medical Qigong Practitioner, 4 year Program, in Progress: The Center Place (Anticipated completion 2021): Medical Qigong is an ancient form of Chinese energetic medicine, and is one of the four main branches of Traditional Chinese Medicine (TCM), along with acupuncture. Disruptions in the electromagnetic energy of the body occur throughout our lifetime as a result of poor diet, sedentary lifestyle, injuries, surgery, suppression of emotions, taking in foreign energies, and aging. The goal of qigong is to correct these bio-energetic imbalances and blockages. This enables the body to strengthen and regulate the internal organs, the nervous system and the immune system, relieve pain, regulate hormones, and strengthen and release deep-seated emotions and stress.
Hypnosis for Trauma & PTSD Certification Training: Effectively Integrating Hypnosis, Neuroscience, and Mind/Body Approaches in Clinical Practice, in Progress with Carol Kershaw, Ed.D and Bill Wade, M.Div., LPC, LMFT. (Anticipated Completion 2020). Topics covered: Neurophysiology of trauma/PTSD, Adverse Childhood Experiences (ACES), Trauma and attachment, Latest neuroscience research on body/mind healing, Long-term stress and its impact on the limbic system, Essentials of clinical hypnosis, Putting clinical hypnosis to practice, Strategies for developing traumatic memory reconsolidation, Focused attention as a state of negative or positive hypnotic trance, Biofeedback tools paired with hypnosis to support post traumatic growth, How to avoid common mistakes in talk therapy that may make trauma symptoms worse.
Professional Shamanic Practitioner Training, 3 Year Program with Julie Kramer, (2019): Trainings in Partnering with Compassionate Spirits through Shamanic Journeying, The Art of Divination; Restoring Lost Power: Soul Retrieval and Power Animal Retrieval; Removing Foreign Energy and Energetic Enmeshment: Extraction, Cord Cutting, and Curse Unraveling; Psychopomp and Compassionate Depossession: Shamanic Healing for the Dying and the Dead; Partnering with the Natural World; Transfiguration and Medicine for the Earth; Space Clearing and Tending; Leading Guided Shamanic Journeying.
Certified Clinical Anxiety Treatment Professional (CCATP) Training: Applied Neuroscience for Treating Anxiety, Panic, and Worry with Catherine M. Pittman, Ph.D., HSPP (2018). Topics covered: Using neuroscience in the treatment of anxiety; Amygdala management for anxiety disorders, PTSD, OCD, and depression; Managing anxiety driven by the cortex; Medications effects on the brain and neuroplasticity; Exposure strategies for teaching the amygdala; Mindfulness in the anxious brain; Using neurologically informed Cognitive Behavioral Therapy interventions; Treating comorbid depression; Cognitive restructuring interventions for Obsessive Compulsive Disorder and Generalized Anxiety Disorder; and Using memory reconsolidation approaches
Treating Complex Trauma with Internal Family Systems Training Certification with Frank G. Anderson, MD (2018). Topics covered: How to treat the various types of trauma with the IFS Model; IFS for attachment disorders and relational traumas; Managing common trauma comorbidities of depression, panic attacks, substance abuse, eating disorders, ADD and OCD; Differentiating therapeutic issues from biological conditions; The neurobiology of trauma, Dealing with extreme reactions of trauma; How neuroscience informs therapeutic decisions; and Integrating IFS into treatment approaches.
Body Talk Fundamentals Training with Wendy Nelson of Energy Wisdom, Boulder (2017): BodyTalk is a holistic approach to healing, based on energy medicine. The body is a complex ecosystem with a delicate balance between physiological biochemical functions, emotional and mental interactions, environmental influences, and hereditary and genetic restrictions. BodyTalk helps synchronize the body's natural functions – to achieve and maintain healing and growth on all levels: physical, emotional, mental and spiritual.
Reiki Master Practitioner Trainings (2016): With Helen Knight: Dreamtime Healing in Spirit Reiki Level 1; Lisa Powers in Usui Reiki Levels 1, 2, 3, & Master Teacher Training Cert.; Melissa Crowhurst: Natural Healer in Usui Reiki Levels 1, 2, 3, & Master Teacher Training Cert; and Level 1 training in Usui Reiki with hypnotherapist Rosemary Owen: Reiki is a Japanese energy healing system that improves energy flow in and around the body.
Access Bars Certification Training with Brain & Body Balancing, Denver (2015) The Access Bars are 32 bars of energy that run through and around the head, storing the electromagnetic component of all thoughts, ideas, attitudes, decisions and beliefs. Each of these can limits capacity to be generative in that area.
Functional Medicine Nutritionist and Health Coach Training, Bauman College, Boulder CO (2009) Science-based nutrition curriculum; practical, hands-on application of narrative health coaching and nutritional counseling. In-depth training in whole-foods nutrition as it contributes to the prevention of illness and the promotion of optimal health. Trained to provide expert evaluation of and recommendations for diet, targeted nutrients, and lifestyles that support clients in slowing the progression of chronic illness and attaining optimal health. Trainings in digestive physiology, biochemistry, nutrition analysis, macro and micro nutrients, nutritional counseling and health coaching, stress and endocrine interactions, men's and women's health, liver detoxification, gastrointestinal health, blood sugar regulation, weight management, cardiovascular health, mental health, musculoskeletal health and sports nutrition, immune system health and autoimmune conditions, and cancer support. Campus no longer in Boulder.
Leadership Training, Denver Office of Strategic Partnerships, Denver CO (2008) One year training in nonprofit management, developing cross-sector partnerships, leadership skills, and organizational capacity building.
Natural Foods Chef Professional Training, Professional School of Natural Cookery in Boulder CO (no online component at that time) (2006) Plant-based training supporting a healthy lifestyle and integrating the study of energetic nutrition into a culinary arts professional training. Creating balanced meals for food sensitivities and allergies, gluten intolerance and celiac disease, low glycemic and paleo diets, raw foods cuisine, macrobiotic, ayurvedic, and Chinese medicinal diets. Training in plant-based expertise for heart conditions, diabetes and other health concerns.
Clinical Herbalist Professional Training, Academy of Scottish Herbalism in Eugene OR, (2004). Herbal and nutritional care for allergies, colds & flu, digestive and heart health, stress, men's & women's health, blood sugar disorders, urinary tract issues, pain, injuries and first aid. Herbal care for babies, children and during pregnancy. Herbalism to direct reproductive choices, menopause and arthritis. Nutrition and herbs for skin care, dental care and in depth understanding of the roles of vitamins, minerals, proteins, carbohydrates and fats in nutrition and dietary structure. Herbal and nutritional care for adrenal exhaustion, anxiety, emphysema, cancers, high cholesterol, high and low blood pressure, chronic pain, ovarian cysts, post traumatic stress, shingles, tinnitus and gastric ulcers. Botanical Pharmacy Training in making tincture extracts and infused vinegars, honeys and oils, medicinal infusions, decoctions, poultices, fomentations, steams, therapeutic use oils, glycerites, respiratory syrups, medicinal bath salts, body and tooth powders, lip balms, ointments, creams, floral waters, trans-dermal creams, aromatherapy formulas, therapeutic incense, smoking blends and elixirs. Also trained in botany and herb gardening.
M.A.., Communication Studies, CSU Long Beach (2002). Coursework in interpersonal communication, small group communication, cultural communication, persuasion, and public speaking.
B.S., Political Science and Women's Studies, U of Oregon (1998).
Memberships: American Association of Drugless Practitioners, Council of Holistic Health Educators, National Association of Nutrition Professionals Member ID #15093, International Association of Health Coaches, Healthcare Providers Service Organization, Crohn's and Colitis Foundation, Celiac Support Association, Gluten Intolerance Group.
Continuing Education Classes in Mental & Emotional Health
Culture Mapping: How Communication Differs in Navigating International Engagements, 7/17/19, Erica Hayes, MSW, NBC-HWC
Care Collaboration Between Coaching, Therapy, and Psychiatry, San Francisco, 4/19/19 w/Heather Muszynski, NBC-HWC and San Francisco, 10/27/17 w/Dana Udall, PhD
Diversity & Cultural Humility: Creating an Inclusive Culture, San Francisco, CA, 4/17/2019, Denise Boston, PhD, RDT
Moving Past Barriers: Reducing Stigma and Creating Space for Change, San Francisco CA, 4/16/2019, Erica Hayes, MSW, NBC-HWC
Going Deeper with Mindfulness in Coaching, 3/14/2019, Erica Hayes, MSW, NBC-HWC and Heather Muszynski, NBC-HWC and
San Francisco CA, 9/28/18, Elissa Burdick, MSW
Brainspotting: Brain-Based Method for Healing Trauma And Expanding Performance And Creativity, David Grand, PhD, 12/2018
Treating Trauma Master Series, NICABM, 11/2018
Using Empowerment Language w/ Emotional Wellness Coaching, 10/17/18, Erica Hayes, MSW, NBC-HWC
Motivational Interviewing Training, San Francisco, 9/27/18 and 1/24/17, Suzanne Alfandari, MS, LMFT
Growth vs Fixed Mindset in Clients, San Francisco, 9/27/18, Erica Hayes, MSW, NBC-HWC
Substance Abuse Disorder Assessment, San Francisco 9/26/18, Dana Udall, PhD
The Easy Way to Say the Hard Thing with Clients, San Francisco, 9/25/18, Ryan Hagen, Psy.D.
Mental Healthcare in Canada, 9/13/18, Erica Hayes, MSW, NBC-HWC
A Cultural Snapshot for Coaching Australians, 7/17/18, Erica Hayes, MSW, NBC-HWC
Coaching Support for LGBTQ Challenges, 5/29/18, RP Whitmore-Bard, MA
BF18007 – HIPAA Privacy and Security Overview,5/1/18 and 1/29/17, Pinnacle: Center for Professional Development
BF10040 – Healthcare Fraud, Waste and Abuse,5/1/18 and 1/29/17, Pinnacle: Center for Professional Development
Building Resilience with Acceptance and Commitment Therapy (ACT) and Dialectical Behavior Therapy (DBT), 4/25/18, Erica Hayes, MSW, NBC-HWC
Duty to Protect, 3/20/18, Dana Udall, PhD
Cross-Cultural Communication: The Why and the How, San Francisco, 3/8/18, Dana Udall, PhD
Coaching Clients to Manage Conflicts and Disagreements, San Francisco, 3/6/18, Robin Rosenberg, PhD, ABPP
Setting Boundaries for Accountability, San Francisco, 3/6/18, Ryan Hagen, Psy.D.
Tools for Building Resilience in Clients, San Francisco, 3/5/18, Ryan Hagen, Psy.D.
Moving Clients Past Stuck, 11/21/17, Heather Muszynski, NBC-HWC
Creating SMART Goals with Coaching, San Francisco, 10/27/17, Heather Muszynski, NBC-HWC
Neuroscience of Behavior Change, San Francisco, 10/26/17, Meg Jordan, PhD, RN, CWP
Coach-Client Identity Awareness, San Francisco, 10/26/17, Dana Udall, PhD
Imminent Risk & Suicidal Ideation: Assessing & Responding, San Francisco, 10/25/17, Dana Udall, PhD
Mandated Reporting, San Francisco,10/25/17, Dana Udall, PhD
Impact and Effect: Coping as a Coach, San Francisco, 10/24/17, Heather Muszynski, NBC-HWC
Complex Reflections in Motivational Interviewing: Metaphors & Analogies, 9/19/17, Heather Muszynski, NBC-HWC
Measuring Client Outcomes from 30 Days of Coaching, 8/22/17, Heather Muszynski, NBC-HWC
Coaching Clients with Traits Associated with Borderline Personality Disorder, 10/3/17, Ryan Hagen, Psy.D.
Coaching Clients with Eating Disorders, 7/26/17, Dana Udall, PhD
Clinical Triage, 7/12/17 w/ Dana Udall, PhD and 3/23/17 w/Heather Muszynski, NBC-HWC
The Stages of Change and How to Coach Through Them, San Francisco, 6/8/17, Meg Jordan, PhD, RN, CWP
Setting Up Coaching Clients to Win: The 1st 30 Days, San Francisco, 6/8/17, Heather Muszynski, NBC-HWC
Psychoeducation and Triage for Coaching Clients, San Francisco, 6/6/17, Dana Udall, PhD & Ryan Hagen, Psy.D.
Trauma Coaching, San Francisco, 6/6/17, Ryan Hagen, Psy.D.
Relationship Coaching, San Francisco, 6/6/17, Dana Udall, PhD
Coaching Notes and Documentation Best Practices, 5/2/17, Ryan Hagen, Psy.D.
Setting Boundaries with Clients, 3/17/17, Heather Muszynski, NBC-HWC
Additional Shamanic Trainings
Extraction Training in Shamanically Removing Spiritual Intrusions and Thought Forms from Others, Boulder CO, 5/28/18, Sylvia Edwards
VOCES CURANDERAS/Healing and Ceremonial Singing Private Tutoring, Pisac Peru, 9/17, Alexandra Ostos
VOCES CURANDERAS/Healing and Ceremonial Singing Workshop, Pisac Peru, 8/26/17, Alexandra Ostos
Taller Construcción Ancestral con Tierra/Ancestral Construction with the Earth Workshop, Pisac Peru, 8/12-13/17, Bioarchitects and permaculturists: Jeanette Gonzales (Chile) and Johanna Saavedra (Peru)
El Manejo Sagrado y Medicinal de los Cuatro Elementos, La Hoja de Coca y la Mesa Andina/The Sacred and Medicinal Handling of the Four Elements, the Coca Leaf and the Andean Altar, Pisac Peru, 8/2-3/17, w/Medicine Woman Marcela Pantigozo Loaiza
Despacho/Haywarisqa Workshop and Musoq Karpay Initiation/Rites into the Andean Mystical Path, Cusco Peru, Juan & Luis Quispe, pampamesayoks initiated healers in the Q'ero tribe, the Wisdom Keepers of the Andes.
Ceremonial Drum Making Private Workshop, Pisac Peru, 7/25/17, w/Andean Shaman Alfredo.
Techniques Secrètes et Soins/Secret Techniques and Care of Protection, Purification, Self-Testing and Energy Recharging previously reserved for Ninjas and Samurai with Japanese Shaman Kaz Ogawa, Genac France, 4/27/17.
La Medecine des Oiseaux/The Medicine of Birds: Teaching and transmission of the Celtic technique of healing with feathers with Celtic Swiss Shamanic Practitioner, Sturny Ishenty, Genac France, 4/27/17.
Danse des Elements Air et Eau, la Connaissance et L'harmonie/ Dance of the Elements Air and Water: the pre-Columbian Tradition of breathwork and movement so that vital energy can flow into the body with Tupaq Sonqo, Medicine Man of the Quechua Andean Traditions, Genac France, 4/28/17.
Atelier Teotlali/ Earth Energies, Directions and How to Use Them with Tezkateculi Kwautlichan, Temaxtianitl, Traditional Medicinal Knowledge Carrier of Mexico, Genac France, 4/28/17.
Enseignement et Pratique Sur L'ouverture du Coeur/Teaching and Practice on the Opening of the Heart in the indigenous tradition of Yawantinsuyo with Tupaq Sonqo, Medicine Man of the Quechua Andean Traditions, Genac France, 4/29/17.
Danse des Elements Feu et Terre, La force et la matière/ Dance of the Elements Fire and Earth: the pre-Columbian Tradition of Strength and Material, deep inner work with tribal movements with Tupaq Sonqo, Medicine Man of the Quechua Andean Traditions, Genac France, 4/29/17.
Introduction au Massage Toltèque Aztèque/Introduction to Toltec Aztec Massage: Learn to activate harmonize and heal the 20 points and protective energies that are inside our body for better health, with Wisdom Man of Traditional Mexican Medicine, Ulises Osorno Bozano of the Mazahua and Nahuatl origin, Genac France, 4/29/17.
Trouver son Chant Medecine/ Find Your Medicine Song: Liberate your voice, find your way, allowing the medicine of your soul to emerge with French Celtic Shamanic Practitioner, Melissa Gerard, Genac France, 4/29/17.
Partnering with Compassionate Spirits: An Introduction to Essential Shamanism, Boulder CO, 12/9-11/16, Julie Kramer
Continuing Education in Functional Medicine, Nutrition, and Herbalism
Advanced/Wilderness First Aid, CPR, AED, Colorado First Aid (2016)
Rocky Mountain Field Botany Retreat, Aspen, CO, Colorado School of Clinical Herbalism, 7/15-7/19/15
The Brain-Immune Axis, Denver, CO, 5/19/11, Dr. Michael Pierce DC DABCN
The Brain-Gut Axis & Clinical Applications, Denver, CO, 4/14/11 with Dr. Michael Pierce DC DABCN
Breaking the Complex Web of Leaky Gut, Boulder, CO, 3/10/11, Dr. Michael Pierce DC DABCN
Understanding Complexity of Gluten Sensitivity, Englewood, CO, 2/16/11 w/Dr. Michael Pierce DC DABCN
Nutrition & Health Coach Teacher Training, Bauman College, Boulder CO (2010) with Ed Bauman, PhD and Erin Livers, ICNT
Integrative Detox System: How to develop 4 week anti-inflammatory & detoxification program, Denver, CO, 12/4/2010, Linda Clark, MA, CNC
Functional Blood Chemistry: Advanced Pattern Analysis, Denver, CO, 9/22/10, Dr. Bryan Walsh, ND
Functional Blood Chemistry Analysis, Denver, CO, 9/18-19/2010, Dr. David Arthur, DC, DACNB, CCCN
Autoimmune Regulation by Nitric Oxide & Glutathione Systems, Westminster CO, 8/25/10, Dr. Michael Pierce DC
Reading the Signs: Training in Physiologic Body Responses, Palpation Techniques, and Traditional Chinese Medicine Evaluation techniques, Broomfield CO, 6/19-20/10, Dr. Stephen Siteler, LAc, OMD, NMD, D.Hom, DOHAI, DBATCM,DANMA
Impacts of Estrogen on Neuroendocrine Immune Axis, Westminster CO, 6/4/10, Dr. Michael Pierce DC, DABCN
Autoimmune Thyroid: Research and Practice Updates, Denver CO, 5/11/10, Steven Noseworthy, D.C., D.A.C.N.B.
Linking the Signs: Integrating Chinese Medicine Modes of Analysis with Functional Medicine Lab Testing , Broomfield CO, 5/1-2/2010, Dr. Stephen Siteler, L.AC., O.M.D., N.M.D., D.Hom, DOHAI, DBATCM
Advanced Detox Strategies, Boulder CO, 4/29/2010, Dr. William Kneebone, DC, CNC, DIHom, FIAMA, DIACT
Clinical Pearls of Functional Endocrinology, Boulder CO, 4/28/10, Dr. Shane Steadman, DC, DACNB, DCBCN, FACFN
Detox & Drainage, Westminster CO, 4/28/2010, Stephen Stiteler, L.AC., O.M.D., N.M.D., D.Hom., DOHAI, DBATCM
A Practical Approach to Chronic Immune Deficiencies, Broomfield CO, 2/27/2010, Dr. Nigel Plummer, PhD
Can We Stop Cancer from Starting, Boulder CO, 4/9/09, Colorado Functional Medicine Forum: Dr. Eleanor Rogan, PhD
Intro to Functional Blood Chemistry Testing, Boulder CO, 4/1/09, Bauman College: Erin Livers, ICNT
Clear out the Cupboards, It's Spring, Boulder, CO, 3/16/09, Bauman College: Erin Livers, ICNT
Unlocking the Mysteries of Gluten Sensitivity: Neurological/Cognitive Manifestations, Mood Disorders and Effective Treatments of Wheat & Gluten Sensitivity, Boulder CO, 3/12/09, CO Functional Medicine Forum: Thomas O'Bryan, DC
Conscious Eating: Building Happy, Healthy Relationships w/Food: How to focus attention while eating, the importance of stress free eating and developing a relationship with food, Boulder CO, 2/16/09 Bauman College: Alison Anton, CN
How Plants Talk to our Genes, Boulder CO, 2/11/2009, Colorado Functional Medicine Forum: Dr. Robert Rountree, MD
The Hormone Symphony, Boulder CO, 1/14/09, Colorado Functional Medicine Forum: Dr. George Gillson, PhD, MD
Metabolic Tune-Up: Keys to Lose Weight and Gain Energy, Boulder CO, 1/12/2009, Bauman College: Ed Bauman, PhD
Eat Well for Winter Health, Boulder CO, 12/15/2009, Bauman College: Erin Livers, ICNT
Vitamin D for Health, Broomfield CO, 12/3/2008, Colorado Functional Medicine Forum: Dr. Michael Holick, PhD, MD
Nutrition Bandits, Boulder CO, 9/15/2008, Bauman College: Erin Livers, ICNT
Sleep Solutions, Boulder CO, 8/18/2008, Bauman College: Ed Bauman, PhD
Fitness Foods Fit You, Boulder CO, 7/21/2008, Bauman College: Erin Livers, ICNT
Nutrition for Cancer Recovery, Boulder CO, 6/16/2008, Bauman College: Ed Bauman, PhD
Eating for Health: to promote strength, clarity & vitality, Boulder CO, 3/18/2008, Bauman College: Ed Bauman, PhD