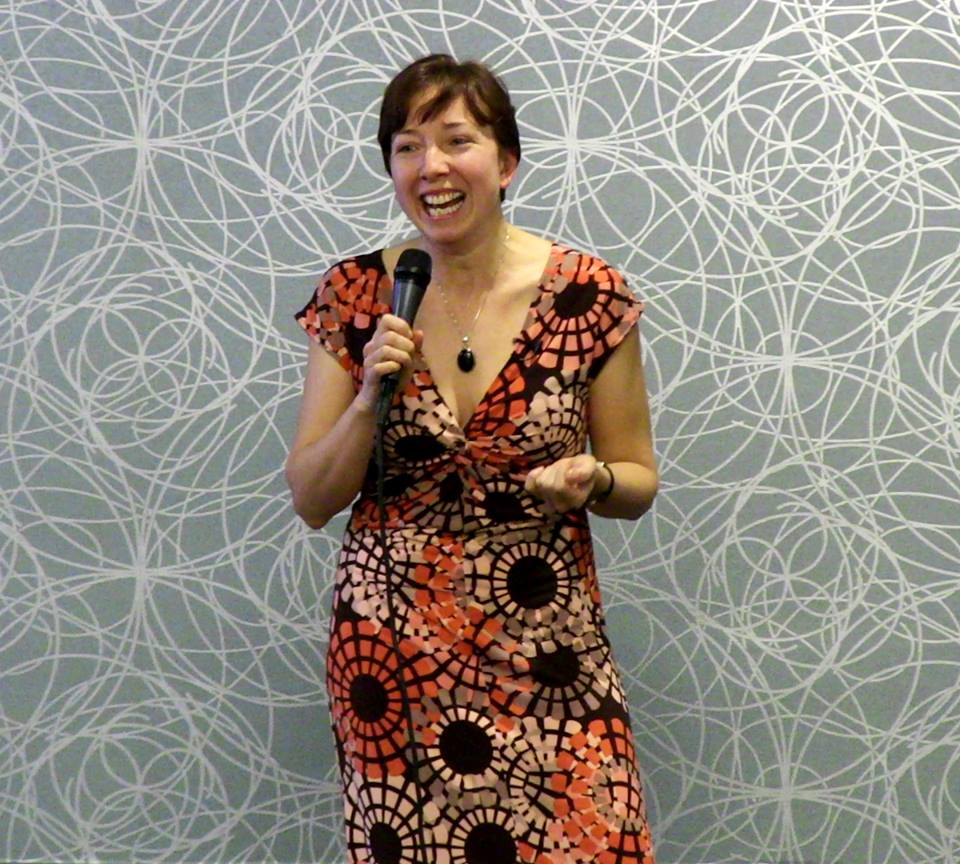 Through captivating speaking engagements, seminars, employee wellness programs and coaching, Katie can show your group how to develop sustainable, healthy habits. Her speaking style is warm, engaging, fun and dynamic and she is well-versed in connecting with her audience in an authentic, meaningful way. Long before Katie went into natural health, becoming a Clinical Herbalist, a Therapeutic Chef and a Functional Medicine Nutritionist, she received a Master's Degree in Communication. Long before she was educating about restoring digestive health, she was an educator,  teaching Public Speaking at California State University Long Beach and coaching high school and college public speaking and debate teams. She loves to make her audience laugh, discuss the taboo health topics and support her audience to restore their digestive health; extinguish fires of inflammation; and manage chronic illness and autoimmune disease through diet. Whether her audience are employees required to attend her presentation or a group of health practitioners seeking continuing education, attendees always leave feeling more empowered to create change in their own health or those of their patients and clients. Peruse the "Most Popular Presentation" topics below or ask for a topic specially catered to the needs of your group.
Employee Wellness Package Options
Nutrition and Healthy Eating Lunch N' Learns, Workshops and Employee Retreats held onsite at your workplace or at Nourished Health Center. See below for topics.
Cooking Demonstrations can be hold onsite as part of a Nutrition Presentation – No more than 1 Cooking demonstration per hour workshop is suggested. See workshop topics below.
Hands-on Cooking Classes or Team Building Cooking Challenges can be held at Nourished Health Cooking School at 1740 Marion St. in Denver's Nourished Health Center for groups of 10 or less or at your workplace if a suitable kitchen is available onsite. Hands-on cooking classes require at least 2 hours per class to execute, with 3 hours preferable. 30 minutes before and after hands-on cooking classes must be available for setup and clean-up.
Vitality Transformation Blueprint Program offered at a significant discount based on the number of employees enrolled. This is 6 week online program or may be offered in-person, onsite exclusively for your business.
Employee wellness program evaluation, metrics and tools can be offered or HR can be trained to incorporate these opportunities into programs. Katie has trained Longmont United Hospital, St. Vrain Valley School District, the City of Longmont and LiveWell Longmont how to measure employee wellness programs.
We offer weekly, bi-weekly or monthly wellness newsletters or "healthy tips" articles for your current employee communication mechanisms.
Katie is the Director of Nourished Health Center which incorporates a variety of health practitioners and class instructors. Access chair massage, life coaching, yoga and other presenters through Katie to add on to nutrition classes.
Most Popular Presentation Topics
All are available with or without cooking demonstrations and can be offered as a 1 hour workshop, a half day workshop, a full day workshop or a two day workshop. All presentations include handouts and are tailored to the needs of the organization. There are video clips available for most of the topics listed below. Only one cooking demonstration can be offered per hour nutrition talk.
From Exhausted to Energized: Discover Your Personal Food Map to Banish Fatigue and Skyrocket Your Productivity
What would your life be like with an abundance of energy and vitality? What could you get done and how would you show up in the world if you could maintain your energy, focus and creativity throughout the day and all without the help of stimulants? If you can start your day with an unlimited amount of possibilities, this workshop will show you how to have the energy to do whatever you desire to put your plan into action. Are you one of the many who struggles to get your day started without coffee? Or perhaps you feel a daily 3pm energy slump, combined with sugar and caffeine cravings? Or maybe you are full of energy at night, but are tired in the morning? If you wake-up tired or can't sustain your energy throughout the day, you are missing out on creating the life you desire. You can do something about it! Isn't it time? In this workshop, learn which food and eating choices are depleting your energy and which foods and habits will easily skyrocket you. You will discover your own personal food map to vital health, focus and energy.
Eat Your Way to Health
Even though we want to eat right, we are often busy and rushed, relying on convenient and fast rather than healthful and wholesome food. In this workshop, you'll learn how to eat for health in a way that won't "break the bank," tastes great and does not take a lot of time. You'll learn some surprising facts about seemingly healthy foods and foods to add to your diet to increase your vitality, digestive health and metabolism. We'll also do a food demonstration to let your taste buds be the judge of "Eating for Health!"
Sustainable Weight Loss: Love Your Body and Love What You Get to Eat
Beyond the diets, the rules and resolutions, beyond the counting and measuring and guilt and obsessing, there lies a land of complete freedom around eating—a land in which you don't fight against your own body and your own cravings, a land in which your body doesn't betray you, a land in which you are not only satiated by your food but you love your food choices that nurture your body as you lose weight effortlessly and stay stable at your ideal weight. You can get there! In this workshop you will learn how to sustain healthy weight loss, how to naturally boost your metabolism simply through your eating habits, how to stop having unhealthy food cravings, the surprising foods you should be eating to lose weight, the even more surprising foods that are labeled as healthy but actually cause weight-gain and how to uncover if there is an underlying health concern that is sabotaging your weight loss success. We'll also excite your taste buds with a weight-loss food demonstration you can duplicate at home.
Restore Your Digestion & Restore Your Health with the Anti-Inflammatory Diet
There is so much more to digestion than our gastrointestinal system. Our digestion determines our ability to get nutrients out of our food; our ability to create neurotransmitters that fuel our brain and stabilize our emotional and mental health; our ability to properly utilize proteins, fats and carbs so that we have stable blood sugar; and our ability to create hormones in our body that influence our sex life, our energy levels and our ability to respond to stress. When our digestion is disturbed, every process in our body is disturbed. And inflammation is what peturbs our digestive health most. Inflammation in our gastrointestinal tract results in inflammation in our brain, our joints and our life; as well as for some people, results in diarrhea, constipation, alternating diarrhea and constipation, cramping, gnarly gas and bloating. Inflammation also upregulates our immune system and in cases of Inflammatory Bowel Disease and other autoimmune disorders, the body is triggered to assault its own tissues. Everyone's immune system triggers can be different. In this workshop, we will discuss those foods that are inflammatory for everyone, those foods that are anti-inflammatory for most people and those foods that are common immune triggers individually.
Break Your Chains of Sugar Addiction
Do you struggle with your cravings for sweets? Do you crave sugary snacks for energy or to satisfy your sweet tooth, but end up feeling more tired and defeated after eating them? Sugar has a profound effect on both our body and our mind. If you are struggling to maintain your ideal weight, have poor sleep, experience headaches, have trouble dealing with stress, experience brain fog, have low energy or struggle with blood sugar imbalances, cardiovascular concerns or high cholesterol, it may be time for you to effectively kick your sugar habit for good. This is not about deprivation, but about creating a new relationship with food and your body and changing your life to change what you crave, how often you crave it and how you satisfy those hankerings. Learn to squelch your sugar compulsions, satisfy cravings in a healthy way and rediscover your life without sugar dependency.
[content_box title="WHAT ATTENDEES ARE SAYING ABOUT KATIE'S BREAK YOUR CHAINS OF SUGAR ADDICTION WORKSHOP" height="200″ titleBgColor="rgba(136,0,0,1)" titleTextColor="rgba(255,255,255,1)" bgColor="rgba(203,186,186,1)" textColor="rgba(0,0,0,1)" align="center"][testimonialswidget_widget category=sugar-detox-ws][/content_box]
Eating for a Healthy Immune Response: What foods to include and which to avoid to stop your body's self-attack and restore vitality
Do you know the food triggers for your autoimmune condition? Do you know how to eat your immune system to health? In this workshop, uncover how to discover your own unique diet to un-confuse your immune system and how to maintain autoimmune disease remission through food. Whether you have an autoimmune thyroid condition, autoimmune arthritis, inflammatory bowel disease, celiac disease, psoriasis or ANY other autoimmune condition, food has an effect on keeping your disorder in remission and calming down flares in which your body reignites its attack on tissue. Taking the time to understand your immune system's unique nutritional needs can be the most important step you take to regain your vitality and health.
Benefits of Nutrition Presentations for Employees Include…
Weight reduction
Increased stamina, productivity and focus through blood sugar regulation
Lower levels of stress through mindful eating
Increased well-being, self-image and self-esteem through eating healthier
Reduced employee absenteeism and illness through immune system support
Nutrition directly impacts nearly every aspect of physical and mental health. A healthy diet can help protect against such conditions as heart disease, diabetes, arthritis, stroke, certain cancers and depression.
Nutrition Education Return on Investment
A U.S. Department of Health and Human Services report in 2002 revealed that at worksites with nutrition and physical activity programs, employers have:
Reduced healthcare costs by 20 to 55 percent
Reduced short-term sick leave by six to 32 percent
Increased productivity by two to 52 percent
The American Journal of Health Promotion estimates:
The cost of obesity to U.S. employer to exceed $12.5 billion in health care, sick leave, and life and disability insurance.
Study sited indicates obesity raises healthcare costs by 36% and medication costs by 77%.
[content_box title="WHAT ATTENDEES ARE SAYING ABOUT KATIE'S COOKING CLASSES" height="200″ titleBgColor="rgba(136,0,0,1)" titleTextColor="rgba(255,255,255,1)" bgColor="rgba(203,186,186,1)" textColor="rgba(0,0,0,1)" align="center"][testimonialswidget_widget category=vitalitycleanse][/content_box]
What Administrators are Saying About Katie's Workshops

Your "Eating for Health" session was the #1 workshop at our professional development institute! Not surprising considering your delightful manner with people.

—Sari Frosh, Development and Special Projects Coordinator, Mile High Montessori, 8/5/11
For the past 2 years Katie has been coming to the Whole Foods Market in Cherry Creek to so monthly "Gluten Free-dom" tours and workshops for our customers.  I was blown away by her presentation the first time I sat through it.  She was very professional, had a full PowerPoint, handouts, and product examples of everything she was talking about.  I walked out of her workshop knowing more about a gluten intolerance than ever before, and knew our customers were in good hands with her knowledge and expertise.  I couldn't imagine working with anyone else!

–Sharon Wilkinson, Marketing and Community Relations Director, Whole Foods Market Denver, 12/12/13
Katie, you rocked the HOUSE sister! Keep shinin' that light.

–George Carroll, 1/21/15
Thank-you so much Katie, for coming to our meeting last night, giving wonderful presentations, and for respecting the time limit we needed for a meeting afterwards. You gave us lots to think about and discuss at future meetings. Kale salad was great! I'm going to make it many times for family and friends!

–Dianne, Denver Moderation Management Coordinator, 5/11/11
I just wanted to say thank you again for such an amazing cooking class experience! We all enjoyed it so much! The intimate class was great too!

–Missy Szymanski, MOSAIC (Mothers of Severely Allergic Infants & Children) Denver Chapter Manager, 3/6/13

DANGER:

Cooking Classes and Demonstrations are Only for Those Who Like to Laugh A Lot & are Ready to Learn to Play in Their Kitchen!

Cooking class for Core Power Yoga

Cooking Demo's for the People's Fair

Urbiculture Farm Tour & Fundraiser – Rawsagna

Cooking Class

Send Grid Team Building Cooking Class

Send Grid Team Building Cooking Class

Send Grid Team Building Cooking Class

Send Grid Team Building Cooking Class

Cooking Demo's for the Crohn's and Colitis Foundation

Cooking Demo's for Evolve Expo
Katie Provides Employee Wellness and/or Customer Wellness Workshops and/or Cooking Demo's/Hands-On Classes for these Organizations, Businesses and Events: 
SendGrid

Katie's TV Interviews and Media:

Interested in Booking Katie for your Conference, Event or Employee Wellness Program?

Contact Katie to discuss rates, topic and availability.

Please call: 720-295-6492 or fill out the form below:
[pirate_forms]