Ten or so years ago, I attended a week-long silent meditation retreat, my first deep-ish dive into meditation, not simply sitting for short bursts of time trying to still my mind, but spending a week watching and letting go of thoughts, watching and letting go of thoughts without re-attuning to the hustle bustle of daily life. This resulted in my first experience of maintaining a still mind outside of active meditation to connect fully with truths that were otherwise hidden to me and fully being able to see in the moment what happens when we crack ourselves wide open and the light shines in (or out). My relationship with my father has deepened over the years since this first experience and I attribute that in large part to our willingness to crack open and let our light out and the other's light in.
My father, as a hardened Montana man raised with abuse, neglect, and fear from his dad, must have been scared shitless, having a little girl and the innocence, vulnerability, emotionality, and weakness we attribute as a society to the feminine. As I grew older and rejected everything he knew about "girls" and refused a reliance upon him or men in general, our relationship grew more and more contentious as we argued and lived in distorted thoughts of the other without understanding, awareness, or support. Love seemed merely a blood requirement.
My dad had called during the meditation retreat, but of course, in addition to being silent, it was also technology-free. Upon returning home, I returned his call from several days earlier while standing in my culinary school, sans students. He was blanketed in fear, that something bad had happened to me; whereas I was coming from a new state for me–still blissed-out, mindfully open, grounded, connected, and in aware oneness. That fear that came up for him around losing me, cracked him wide open and he expressed for the first time that he "was proud of me and that I should visit him," and that, in turn, cracked me wide open too and we basked momentarily in each other's light.
And then, he freaked-out… Letting the light-in, being vulnerable, opening and connecting to another is pretty scary shit for anyone, let alone a hardened Montana man. He slammed shut that door on vulnerability as hard as he could and yelled at me about how "I would never visit him ever again and that he would die soon and I didn't care." And certainly that discomfort around cracking-open, possibly for one of the first times, probably felt so uncomfortable that he wondered if he was dying right there and then, alone and misunderstood.
I chuckled (silently) and broke out into a huge grin having been in such a still place that I could fully see the truth of the situation and knowing that he was in a reactive state, kicking that door closed as hard as he could, to return to a place of comfortable separation in shadow. But it was too late… I had already seen and felt his light. I was able to catch a glimpse of his true self and could honor the struggle he was having with the discomfort of vulnerability and connection. In essence, I blocked the door from closing again, and kept it open just wider than a crack, by not reacting to his reactivity and simply holding space for his fears to erupt and choosing instead to maintain presence for his true self/his light, instead of to his fears.
I chuckled my way to booking a flight to visit and our relationship has continued to deepen over the years. We still vehemently disagree with each other and often lack understanding about the other, but he cracks open more and more often to me and I continually work on being less and less reactive to his breed of Montana masculinity.
From that one meditation retreat, putting me into such a place of oneness and awareness, I've been able to always connect with the truth of the situation, honor the struggle, and uncover and discover myself and others from being a fully hatched egg.
Ha! Just kidding! Not. Even. Close. It is a constant challenge and I am in constant evolution. Opening and closing, breaking open and kicking closed. Uncovering and discovering. Being triggered and crying until I laugh.
That said, there are some takeaways that we can all use whether being meditatively blissed out in a state of oneness or attuned to the hustle and bustle of our modern world to make that triggering a little easier and to calm down the reactivity enough to be more open and aware. 
1. Put on the breaks: The moment you notice that someone has said or done something that is creating an emotional reaction, stop everything. Stand or sit completely still. Breathe deeply. Become as silent as you can. Take a mindful moment, whatever you can afford in the moment, 5 seconds or 5 minutes. Step away from the situation if you can. In what I shared, I was already here, in the moment, coming from a place of awareness and deeply grounded.
2. Be appreciative for the situation: Of course, if face-to-face, don't go too much into joy for the situation in that moment where the person might think you are laughing at them versus laughing at yourself and your own reactivity potential (or their's). Finding amusement in the ways our subconscious chooses to protect us helps take some of the heaviness off.
We can use these experiences to learn more about ourselves, to honor our struggle, to connect with our truth, and to alert us to another piece of our puzzle. Why are we reacting the way we are? What is the lesson in this? Could we have chosen to come into this lifetime with this triggering as something to work through on our soul's path? Why is this bothering me so much? What part of me believes what is being said and that's why I'm so upset? These are the opportunities to crack ourselves wide open and bring in the light.
My reaction to his reactivity wasn't more reactivity, but instead lightness. I remember thinking: "Oh gosh, isn't that so adorable, he was just being vulnerable and it scared him. Gosh that's cute." If I had shared that thought, it would have been patronizing (to say the least!) but instead I just let the thought create joy for me in that moment of his intensity so I could hold space for him.
3. Put this situation in the largest possible context, in the context of your entire life and the world situation. Realize that whatever is at stake, it is not the end of the world. Twenty years from now, will you even remember what this contentious moment was about? How can you put this in the context of what matters to you and the people who matter to you to calm down the upset?
This is especially helpful for me when not dropped into mindful awareness – aka most of the time! So for my example, instead of letting myself get upset and triggered because of how my dad started to engage with me, "chilling out" and realizing that it isn't worth it for me to yell back at him. That my freaking out isn't going to make me feel any better, isn't going to solve anything and his being upset with me and me needing to prove myself is actually pretty silly in the greater scheme of things. Choosing instead to just be with him and the swirling emotions, not engaging in the fight for the sake of the fight, and also not taking flight.
Click here for the next 3 steps are all about reframing the situation to calm down reactivity. 
I did quickly go visit my dad after that initial crack open of vulnerability. My dad saw me off for my flight back to Denver and we gave each other one last hug and he said, once again, "you know I am so proud of you and I love you" and we hugged and I left to go through security. There were no words following that from either of us, no triggering this time, just love, appreciation and the vulnerability of a blossoming, grown-up, father-daughter relationship.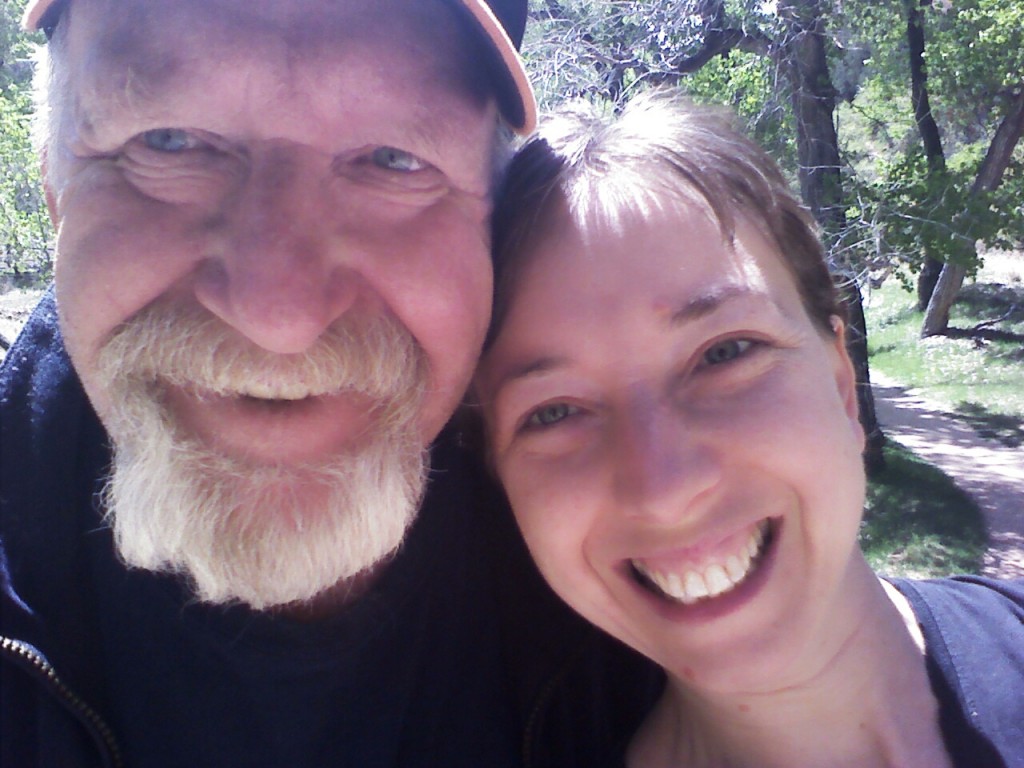 In future articles, I will also be sharing:
How to deal with a narcissist that is triggering you and what is the same and what is different in these steps.
Cutting ties and cutting cords from a grounded place in relationships with others.
Stepping into "feeling our emotions" while also expressing them from a grounded place.
Communicating our needs from a place of grounding instead of reactivity.
Healing and re-grounding after intense engagements with people. This meditation is helpful for grounding.
Not taking in the emotions of others and separating "what is ours versus what is theirs". Preventing reactivity by clearing ourselves of foreign energy so that we can enter communication from our highest self and as ourselves.
When we do react, how do we heal? Forgiving them and forgiving ourselves.
How about you? Any aha experiences when you let yourself be present instead of triggered by another? Any experiences you've learned to calm the beast? Please share below!