Salmon is simply brain food (and delicious and super easy to cook!). It's ratio of omega 3 to omega 6 essential fatty acids (EFAs) makes it anti-inflammatory. Reduced inflammation in the gut, reduces inflammation in the brain. We need to be upping our omega 3's in our diet and decreasing our omega 6's to support our brain health – ideally reaching a ration of 1:1-4 (omega 3's: omega 6's) Inflammation suppresses activity of our frontal cortex which stimulates symptoms we associate with depression. A diet too high in omega 6 EFAs (lots of vegetable oils are a key contributor) spikes inflammation in the body.
Other fish high in Omega 3 EFAs are tuna, mackerel, sardines, and herring. In studies, wild cold water fish have been shown to reduce symptoms of schizophrenia, depression, attention deficit hyperactivity disorder, and other mental symptoms. By supporting the synapses in the brain and facilitating brain cell communication, omega-3s also boost learning and memory. EPA is the readily available form of EFAs in cold water fish and has been found to reduce depressive symptoms and may also regulate impulsivity and aggression. EPA also reduces neuroinflammation (fire in the brain/brain inflammation) by reducing the production and outcompeting inflammatory compounds that affect the brain.

COST AND QUALITY CONCERNS?
Canned salmon is just as healthy as fresh salmon for the brain. The key is to get wild caught salmon when fresh or canned. Almost all canned salmon is wild-caught as farmed salmon doesn't hold up to the canning process.
The average wild-caught salmon had 12.4 times as many Omega-3s as Omega-6s, while the average farmed fish had only 2.9 times as many. Also canned salmon has 25% less vitamin D than wild salmon. Farmed fish is also higher in toxins and genetically modified. No thanks! Labels that indicate salmon is from the Atlantic ocean is likely indicating farmed fish. Most Pacific Ocean salmon is wild-caught but often not sustainably fished. Best option is Alaska salmon that is mostly wild-caught and controlled for sustainability. Kirkland (Costco brand) sells both wild and farmed canned salmon. Alaskan pink or sockeye (also called red or blueback) salmon is wild-caught.

COOKING EASE FOR THE BUSY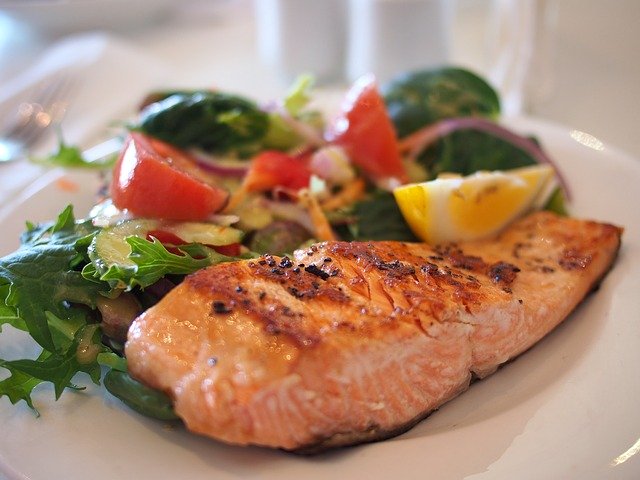 A lot of my clients have transitioned out of a vegan diet into consuming fish and bone broth for their mental health. Myself included – I was vegetarian for over 12 years so I get it. There is a lot of fear around how to cook meat. You can find all sorts of recipes for cooking fish online that are delicious, creating a marinade increases the flavor; however if you are new to cooking and want something quicker I recommend simply:
Adding canned salmon to a salad you make as the protein doesn't get easier – it's already cooked. Add some spices to it and know you are supporting your brain health. I like to mash a little canned salmon with some avocado.
Pan Cooked: Let the fish come to room temperature – taking it out of the fridge 10 minutes before cooking it and patting it dry with paper towels. Warm a skillet (I like iron for this) with oil over medium-low heat (I recommend avocado oil, butter, ghee, or coconut oil). Season the fish with salt and pepper. Raise the heat to medium-high. Place the salmon, skin-side up in the pan. Cook until golden brown on 1 side, about 4 minutes. Turn the fish over with a spatula, and cook until it feels firm to the touch and the skin is crisp if desired, about 3 minutes more. Salmon will flake easy with a fork when it is done.
Oven cooked: Let the fish come to room temperature and pat dry. Season with salt and pepper and add oil under and on top of the fish in a roasting pan or iron pan that can go in the oven. Roasting time depends on the thickest part of your salmon fillet. For every half-inch of salmon, roast 4 to 6 minutes at 425°F— 4 minutes will give you salmon that is still a touch rare, 6 minutes will thoroughly cook it. Again, if the salmon flakes it is done.
Once done, a squeeze of lemon juice compliments the flavors well for all 3 ways. These 3 methods can be done quickly and easily by anyone with any comfort level in the kitchen.
I share 6 Nutrition Keys to boosting brain health & emotional wellness in my free webinar. Do you like salmon? Would love to try out your favorite salmon recipes – please share in the comments below!