Maybe because I am Irish (and Scottish, German and a whole mess of other things) I love me some potatoes. In fact, in grad school, I pretty much lived on them. I would buy huge bags of potatoes and "borrow" pads of butter from one of the school cafeterias and call it breakfast, lunch and dinner. This was prior to my health crisis that changed drastically how I ate and lived! So I never really needed an excuse like St. Patrick's Day to load-up on potato dishes.
I still love potatoes, but only rarely eat them with reckless abandon these days, because if I'm going to choose something to eat that I know will spike my blood sugar crazy high, it will probably be chocolate cake not potatoes (and even then, my home-made chocolate cake is pretty darn low glycemic)! An ounce of the carbohydrates in potatoes contain twice the glucose as an ounce of white, processed crack sugar! The starch in potatoes is made of long chains of glucose which are very rapidly digested. Now of course that said, potatoes are healthier than white sugar because there are some nutrients in potatoes that aren't processed out like they are in white sugar. And if you are very physically active, potatoes can be a great post-intense workout food (though I still prefer chocolate cake for that too).
Enter St. Patrick's Day 2016. And what does my mind go to? Potatoes. Well, actually to colcannon, a dish that is traditionally white potatoes, cream, butter and cabbage OR kale. Colcannon is traditionally eaten in Ireland at Halloween not on St. Patrick's Day, but as Americans we don't really know much about St. Patrick's Day or seem to care so I'm making colcannon darn-it! St. Patrick's Day in America is simply used as an excuse to drink a lot of alcohol, be loud and obnoxious, wear green and get in people's personal space if they aren't wearing green!
Colcannon now days often has bacon or ham added to it, but traditionally Halloween in Ireland was a day when meat was not consumed, which made colcannon a great option. Colcannon comes from "cal ceann fhionn" which translates to white-headed cabbage though is also made with kale and Irish folks are quite haughty as to which is the correct and therefore only way to make it—with cabbage or with kale. There are even two versions of the well-known colcannon song—one focused on kale and the other on cabbage (referred to as greens):
VERSION 1:
Did you ever eat colcannon

when 'twas made with yellow cream

And the kale and praties blended

Like the picture in a dream?

Did you ever take a forkful

And dip it in the lake

Of heather-flavored butter

That your mother used to make?

Oh, you did, yes you did!

So did he and so did I,

And the more I think about it

Sure, the more I want to cry.

God be with the happy times

When trouble we had not,

And our mothers made colcannon

In the little three-legged pot.
VERSION 2:
Did you ever eat colcannon

when 'twas made with thickened cream

And the greens and scallions blended

Like the picture in a dream?

Did you ever scoop a hole on top

To hold the melting cake

Of clover-flavored butter

Which your mother used to make?

Did you ever eat and eat, afraid

You'd let the ring go past,

And some old married sprissman

Would get it at the last?

God be with the happy times

When trouble we had not,

And our mothers made colcannon

In the little three-legged pot.
Colcannon is a famous fortune-telling device as traditionally hidden in it would be a gold ring, a sixpence, a thimble and/or a button (hence the second song version). Finding the ring foretold marriage within a year for the finder, finding the sixpence ensured coming into wealth, the thimble indicated spinsterhood and the button foretold bachelorhood. All in all, a fun game, well, unless you are the unlucky soul who ends-up finding the ring. Also, perhaps we can credit colcannon with mindful eating practices in which a person is careful to take small bites, chew very slowly and to not swallow without fully chewing! I wonder how many people broke their teeth on colcannon!
If I'm going to break with tradition and eat colcannon on St. Patrick's Day, I might as well also change-up the recipe a bit! Instead of using mashed potatoes, I use mashed cauliflower, instead of cream I use coconut milk and instead of kale or cabbage, I use kale and mustard greens in my recipe, but any of the greens from the brassica family work fantastic. Have questions about the cruciferous or brassica family greens, visit my collards green recipes for info on the thyroid and nutritional info. Now of course, if you want to replace the mashed cauliflower with potatoes, go for it; if you want to add some bacon to it, please do; if you want to use other greens, be my guest; and if you can tolerate dairy feel free to use cream and butter instead of coconut milk! I've also used cashew cream and I've used pine nut cream instead of coconut milk, both exceptionally delicious. Coconut milk is just super easy and nut-free for my nut allergic friends, but if you don't like the taste of coconut make it with dairy cream or a nut cream instead.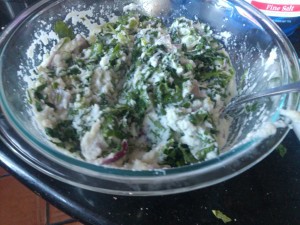 Allergen-Free, Low Glycemic Colcannon
1 bunch of washed kale, de-stemmed and sliced into thin ribbons
1 bunch of washed mustard greens, de-stemmed and sliced into thin ribbons
1 medium-sized head of cauliflower
1 yellow onion, diced
1 can of full fat coconut milk (you will only use the cream)
¼ cup diced fresh parsley
3 green onions, diced
Sea salt and pepper, to taste
Cooking oil, as needed (coconut oil, avocado oil or bacon grease)
Sauté onion in cooking oil until translucent, about 2 minutes. Add kale, mustard greens and a sprinkling of sea salt. Sauté until mixed into the oil and onions, add a lid and let steam in own liquids for about 10 minutes or until well-wilted. While greens are softening, prepare the mashed cauliflower.
Cut off outer leaves and cut out core of cauliflower. Add cauliflower florets to a steaming basket with water and steam until soft, about 10 minutes. Food process the softened cauliflower florets with the cream from coconut milk, sea salt and pepper (reserve remaining coconut water for another use).
Add mashed cauliflower to the greens mixture in a bowl. Add parsley and green onions to the bowl and mix together. Taste and add more salt and pepper, if needed.
Do you celebrate St. Patrick's Day or have any favorite Irish foods? Please share below in the comments.
If you are interested in learning to cook without recipes and honing your creativity in the kitchen, please join me in Denver for one or more of my cooking classes.