In the 1700's it is said that Irish peasants typically ate between eight and fourteen pounds of potatoes EVERY day, accounting for 80% of their caloric intake! Potatoes were easy to cultivate and required little space making it the ideal crop. And on today, St. Patrick's Day, many Irish-Americans still practice the tradition of planting potatoes regardless of the weather (and in Colorado today it is snowing making potato planting suck!).
I have always loved Irish food for the simplicity, ease and cost-effectiveness. However, their heavy reliance on potatoes can be a challenge for those of us seeking to maintain blood sugar balance as well as for those practicing a low carbohydrate diet. Additionally, I prefer more color, variety and a heavier dose of non-potato vegetables in my diet.
That said, I'm part-Irish and don't want to discount my history or culture and still want to make room for Irish cuisine in my life. White potatoes can easily be replaced with sweet potatoes for a similar texture, but much lower sugars (even though they taste sweeter) or with cauliflower for a similar taste, texture and look, but making it even lower glycemic for keto followers.
I don't get fancy very often with my food, because I love food that tastes good and is easy, but occasionally I enjoy making my food real purdy and even shepherd's pie, a traditionally entirely brown dish can be made stunning for a dinner party. What I love about shepherd's pie is that you can use any vegetables you have on hand or even leftover meat and veggies, slap some whipped potatoes (cauliflower or sweet potatoes) on top of it and you have a one pot meal.
It is St. Patrick's Day so integration of a lot of green is called for, but adding in green is as easy as adding in green vegetables instead of dyeing our food with strange food coloring to spike our nutrient density.
In this upleveled version of shepherd's pie, I've used sweet potatoes instead of white potatoes, used a lot of produce, created individualized servings in either mini cake springform pans or using ring molds. I share what I used for produce, but you can use anything you have on hand, just make sure to cook each vegetable separately so that they can be their own separate layer and cook each vegetable prior to baking to cook out some of the moisture.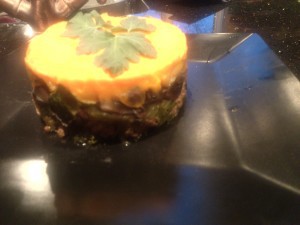 Upleveled Shepherd's Pie
Makes 4 individual shepherd's pies or 1 large springform pie
1-1.25# sweet potatoes (I used 3 small sweet potatoes), peeled and cut into large chunks
3/4# ground beef or bison uncooked or drained, cooked beans of choice for vegan
10 ounces of mushrooms, diced
1 large zucchini, diced
1 yellow bell pepper, diced
1 green bell pepper, diced
1 bunch of kale, diced
1/3 cup coconut cream (the cream not the water in full fat can of coconut milk)
1 inch of ginger, grated
1/2 bunch of fresh parsley, leaves only, diced with a couple full leaves reserved for plating
1 yellow onion, diced
cooking oil, as needed for sauteing vegetables and greasing pans/molds (I used avocado oil)
1 tablespoon balsamic vinegar
1 tablespoon coconut aminos
sea salt, to taste
In a medium pot, bring 1 inch of water to boiling, add peeled sweet potato chunks, reduce heat to low, cover and cook for 15-20 minutes or until potatoes are "forkable."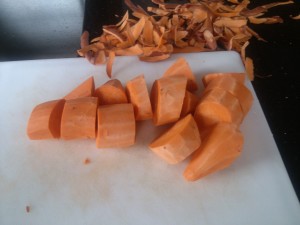 While potatoes cook, begin preparing veggies. Saute onion in a pan for 2 minutes or until translucent. Add ground beef or bison (if using) and saute until no longer pink–about 10 minutes. Add parsley. If using beans instead, add cooked onions and parsley into drained, cooked beans. Set aside.
Saute each vegetable (except the sweet potatoes and ginger) separately in a small amount of cooking oil and salt each of them. Do not cover with a lid as we are trying to remove most of the moisture from each vegetable. Cook each vegetable minimally except for the vegetables. For the mushrooms cook at medium-high heat until mushrooms squeak. Instead of using salt, use the balsamic vinegar and coconut aminos with the mushrooms. Cook until liquid has all absorbed evaporated. Set aside each vegetable into a separate bowl.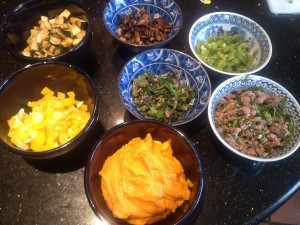 For the mashed potato topping, add cooked sweet potatoes without the water to a blender or food processor with the coconut cream and ginger. Process until fully blended. If using a food processor, stop part-way through and using a spatula, push down the sweet potato. Add sea salt to taste.
Ring molds are preferable to springform pans as they can be removed cleaner. If using mini springform pans, do not use the bottom. If using mini springform pans without a bottom or ring molds (which don't have a bottom) place on top of parchment paper that extends beyond the pan. Grease all pans or molds, especially the sides.
For layering, add a layer of the beans or ground meat mixture and press firmly down, making sure to fully cover the base. On top of that add green bell peppers, top with mushrooms, top that with zucchini, top that with yellow bell peppers, topping that with kale and with each layer before adding the next, press firmly down. Top the final layer with the sweet potato mixture, not going too far above the top of the ring/mold.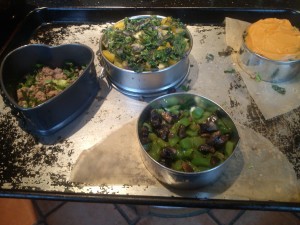 Bake in a pre-heated 350 degree F. oven for 20-25 minutes or until top is firm and browning slightly.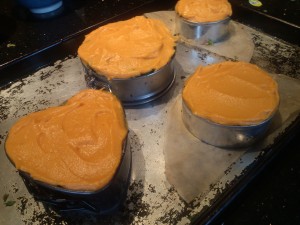 Using a knife or offset spatula, circle each pan or ring mold. For ring molds or mini springform pans without the base, lift the parchment and slide onto individual plates. Carefully open springform pans or slide off ring molds. The ring molds easily slide off as long as they were greased.
Top each shepherd's pie with a few parsley leaves. Serve immediately while hot.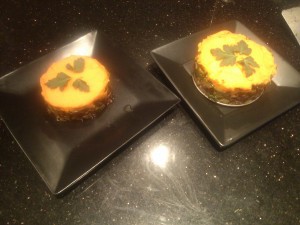 The pie on the left was created using a ring mold and the one on the right by using a mini springform pan. The ones I used the ring molds for came out cleaner on the edges. Also, I learned to not use the bottom of the springform pan which is not removable, as you can see in the picture above.
What are your favorite Irish dishes? Please share below in the comments.
If you are interested in learning to cook without recipes and honing your creativity in the kitchen, please join me in Denver for one or more of my cooking classes.