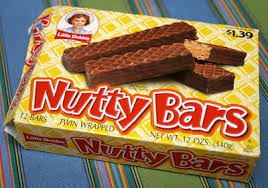 As a teenager and into my twenties, my favorite cracky snack/dessert ever was Little Debbie Nutty Bars. Ugh! Yep, I couldn't get enough. I would buy a box and eat the whole box in one sitting… Yeah, I've never been challenged with sugar addiction! Right…
So those crunchy, delicious Little Debbie Nutty Bars contain gluten, dairy, soy, corn, eggs and peanuts! They are not unlike allergy bombs—just waiting to explode in your gut! And even folks without an allergy to them do best to avoid peanuts, gluten (probably all grains) and soy. Additionally, they contain other ingredients that are best avoided by all: partially hydrogenated oils, a multitude of sugars—20 grams per bar, artificial flavors (hmm… I wonder what these be) and mono and dyglycerides! Mmm… Yummy! Ahh Little Debbie… You know just how I like my desserts! Completely unrecognizable as food and sure to wreak havoc on my gut health—thanks Deb! I love you too!
But still… Even knowing the dastardly danger these bars be, does not change our cravings, does it? We know we shouldn't eat them—yet, the cravings remain. These cravings are often spurred by a number of variables, such as habit; emotional eating; nutrient deficiencies; low serotonin or dopamine; and gluten dairy and soy can all attach to our opiate receptors like heroin. Ahh, well it doesn't help that sugar is crazy addictive either, does it? But they also, for me, conjure joyful teenage memories—those of sneaking whole boxes of bars into dark corners and hogging them down as though a meteor is about to hit any moment. Ahh… Debbie gut bombs.
Luckily, we have options! Now sure those grain-free or even gluten-free wafers are not replicable (or at least not by me), but combining chocolate, peanut-butter-like tasting sunflower seed butter and a healthier form of sugar without all those other allergens and weird ingredients into bars can be done! Lemme show you how!
This recipe is so easy to make and the joyful thing is that it is no-bake, so I can enjoy them during the blisteringly hot dessert summers of Colorado, without heating-up my kitchen one bit! And if you wanna do the raw thing, I have options for that too. And if you can't do chocolate, you can replace the chocolate with carob… See! I've got you covered!
Just call me Little Katie… Now if I could only find that hat…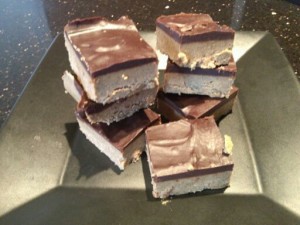 Allergen-Free No Bake Chocolate-Sunbutter Bars Recipe
Grain-free, nut-free, vegan, egg-free, dairy-free, refined sugar-free, paleo, chocolate-free option, raw option
Makes: 12 bars
Prep Time: 1hr 15 min to 2 hr 15 min
Bar Base
1 cup unsweetened sunflower seed butter, room temperature*
1 cup coconut flour
1/2 cup dehydrated coconut sugar
1/2 teaspoon sea salt
1 teaspoon cinnamon
4 tablespoons coconut oil, melted
2 teaspoons vanilla extract
Chocolate Topping
1/2 cup cacao powder (unsweetened cocoa powder) or carob for chocolate-free
1 cup melted coconut oil
1/2 teaspoon sea salt
2 teaspoons vanilla extract
4 tablespoons (divided) of honey, maple syrup or coconut nectar if using cacao or 2 tablespoons (divided) if using carob which has some natural sweetness to it already
* I prefer the texture of Sunbutter brand sunflower seed butter and their organic variety has no sugars added. That said, I don't like that it is in plastic. Maranatha is no sugar added and is in glass. If you use a sugar added variety, make sure to reduce the coconut sugar appropriately.
In a food processor, combine room temperature sunflower seed butter with coconut sugar, cinnamon and sea salt. While food processor is running, slowly drizzle in vanilla extract and then melted coconut oil. Combine completely. Add in coconut flour and process until combined. If necessary, finish combining by hand. Press firmly into a parchment lined 9×9 inch square pan. Put in freezer while preparing topping.
In a bowl or your food processor, whisk together melted coconut oil, vanilla extract, sea salt and half the sweetener. Add cacao or carob powder and whisk or process until completely combined. If using a food processor, make sure to spatula down the yummy deliciousness that creeps up the side of the processor. And now dip your finger in there (or a spoon) and lick away. Not sweet enough for you? Well then, by all means, add the other half of the sweetener, blend and dip on in again for a taste. Add more sweetener still if desired… Once completely combined, remove pan from freezer and pour topping onto bars. Refrigerate for at least 2 hours or until bars are set. If you choose to freeze them instead, be aware that cutting can be a challenge if they are frozen and they may break (unevenly) instead of slice.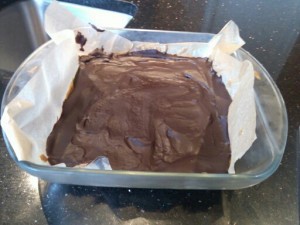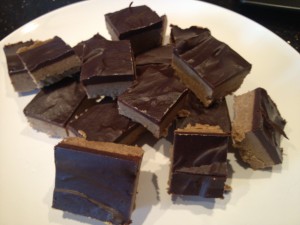 If you want it raw instead of simply no-bake:
If you want to make this dessert raw, you will likely need to make your own sunflower seed butter by simply blending (if you have a Vitamix or Blendtec) or food processing raw sunflower seeds for a really long time! The food processor is actually easier for this one, I think. Oh okay, I lack patience and I prefer the flavor of roasted sunflower seed butter to raw, but if you wanna make it yourself… Throw your seeds in a food processor and process for about 20 minutes or until delicious buttery sunflower seed goodness is amassed. Stop every once in a while and push down the seeds on the side and give your motor a rest. To speed up the process a bit and to make it easier on your processor, you could always add in the coconut oil that will go in the base of the bars anyway.
And a note about soaking your seeds: To reduce phytates and enzyme inhibitors nuts and seeds should be soaked. Seeds don't take as long as nuts, so 2 hours will do fine. That said, you need your seeds to be dry to make nut/seed butter. So you need to drain and rinse your soaked seeds and dehydrate them until dry, about 8 hours. If you don't have a dehydrator, using an oven on its lowest temperature with the door cracked can work, just watch it carefully and don't leave it on while you are gone. But all of this heating sorta defeats the purpose of having something you can make easily and quickly at home in the summer without heating your kitchen! If you consume a lot of nuts and seeds, definitely soak those bad boys. If nuts and seeds are simply an occasional treat, you can get away with not soaking em. And if you are using store bought sunbutter, unfortunately, you can be assured that the seeds weren't soaked (unless you are buying from a brand that indicates "sprouted" sunflower seeds were used).
And regular coconut flour you purchase isn't raw. I've found a couple online sources for raw coconut flour via Living Tree Community Foods, also Alpha makes it and so does Coconut Secret. Or you might make it yourself from raw shredded coconut, which you can access from the same sources or rumor has it that Let's Do Organic's shredded coconut is raw which is often easy to find at natural food stores. One thing to be aware of if making your own coconut flour is that coconut flour is usually defatted so if you are just whipping up straight shredded coconut, that will potentially throw off the ratios some. But play with it and let us know in the comments if you do!
Wait… What's that you say? Reese's Peanut Butter Cups are your childhood binge food–the food that YOU crave? Been there! Done that! I have you covered for that one too. Check out my allergen-free, paleo, grain-free, peanut-free, refined sugar fee or no sugar, soy-free not-peanut-butter cups. Oh and you can make these ones raw too!
8/18/15 Update: Want some more no-bake cookie and bar recipes? This recipe along with 48 others are included in the Traditional Cooking School article – "49 Nourishing No Bake Cookies and Bars"! Check it out! Holy yummness batman!
If you are interested in learning to cook without recipes and honing your creativity in the kitchen, please join me in Denver for one or more of my cooking classes.