I love the combination of sweet and sour. So when organic Meyer lemons showed-up at the natural food store on sale—my mind began racing with all of the wonderful things those Meyer lemons and I could do together. Meyer lemons to me indicate the coming arrival of spring. To simply smell the flowery citrus aroma of Meyer lemons fills me with joy, hope and ecstatic primal lust for life! No, seriously… Lust…Life…Primal… Ecstatic joy… How does it get better than that?
I'll tell you how… When you combine Meyer lemons with coconut and almond and do it in a healthy, satiating recipe that hijacks your body and mind from winter and catapults you into spring then it gets better—so much better.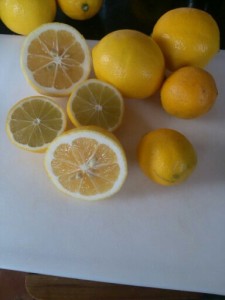 I don't post a lot of recipes here for you as there are so many places to get friggin incredible recipes (and I suck at taking pictures of food) that I don't want to be a food blogger that isn't adding to the conversation. But over and over, you've asked me how to make x dish without x, y and z x 3 ingredients and so finally I'm giving-in or at least on a trial run I am! I will not be transitioning my website to a recipe-only site, but I promise I will TRY to post more allergen-free, low-glycemic recipes (but do excuse my picture-taking fails).
I created this recipe back in February and was flooded with requests for the recipe via Facebook; so finally I succumb and post it to satiate your inquisitive appetites for healthy spring dessert recipes. The following Meyer Lemon Bar Recipe is my baseline recipe, the recipe I go to and adjust accordingly to continue removing and replacing ingredients to meet the needs of those of us with limited diets. It's a recipe for safe success in lemony, desserty, goodness!
Notes on Meyer Lemons, Stevia, Sugars and the Glycemic Level of this Dessert: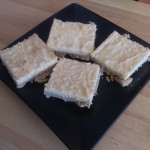 The sweetness and bitterness of Meyer lemons can vary DRASTICALLY. Plus, our sweet needs vary DRASTICALLY! You must taste your batter and determine whether to add more or less sweetener in this recipe. The small Meyer lemons seem to be sweeter than the large, but maybe I'm making that up! I also don't eat many sweets, so I don't need as much sweetener as you may desire. If you use stevia powder or extract that is not the flavored form (e.g. not Nu Naturals or not Sweet Leaf), the dessert will have a bitter aftertaste. If you use the white pithy part of the lemon and not just the zest and juice, it will have a bitter aftertaste. This recipe assumes you are using MEYER lemons, which are sweeter than regular lemons. Meyer lemons are a cross between an orange and a lemon. If you are using regular lemons, add more sweetener or consider doing half lemon and half orange with no orange zest as the orange zest will make it taste like orange bars which would probably be awesome, just not lemony primal ecstatic joy! So, the take away… Taste… Adjust… Taste… Adjust… If you need to follow a recipe exactly—maybe don't do this recipe! Taste… Adjust… Taste… Adjust…
The glycemic level of this dessert, regardless of the version you choose is fairly low. The healthy fat from almond and coconut with protein from the eggs and the almond supports keeping your sugars stable. That said, Meyer lemons are a combination of oranges and lemons and oranges have a higher glycemic level (higher sugar level) than regular lemons so there is still a glycemic effect to this dessert. Also, realize that stevia has no glycemic effect on our blood sugar, but still tastes sweet which means that it may keep your taste buds expecting "sweetness," which can make weaning off of sugars more challenging.
I've included two versions of this recipe for you varying in sweetness and sugars. One version is sweetened with a combination of honey and stevia and the other just with stevia (lowest glycemic option). If you are new to using stevia, I suggest trying the version that combines honey and stevia first, so your taste buds can become more accustomed to stevia. That said, this is the IDEAL recipe for someone new to stevia to try! Stevia plays best with sour desserts because the sour offsets the bitter aftertaste of stevia. Stevia does not play so well with desserts that have a bitter component, such as those containing chocolate or coffee. For those desserts, a non-seasoned stevia consumer should combine stevia with a regular sugar (honey, cane sugar, coconut sugar, coconut nectar, maple syrup, etc.) to make it more palatable and less bitter. If you want to try an unsweetened chocolate dessert using stevia, I suggest doing my coconut milk chocolate ice "cream" as the stevia aftertaste is still buffered in that recipe. If you are a seasoned stevia user, don't do sugars and are a bit of a chocoholic, you may be ready to move on to my chocolate-sunbutter cups.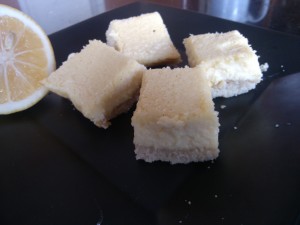 Meyer Lemon Bars (refined sugar-free, grain-free, dairy-free, paleo, no sugar added stevia option)
Makes 9-12 bars (depending on bar size)
The Cookie Base
2 cups blanched almond flour
¼ teaspoon sea salt
Scant ¼ cup coconut oil, melted*
1 teaspoon vanilla extract
1 dropper (between 1/8-1/4tsp) toffee stevia or vanilla stevia (I like Sweet Leaf Brand), optional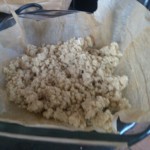 Pulse together almond flour and sea salt. Drizzle in the remaining ingredients into the food processor and pulse until the dough forms a ball. Start with the smaller amount of stevia, taste and add more if necessary. Especially, taste and adjust if you are not using the Sweet Leaf or Nu Naturals Brand and if not using a flavored stevia. That said, the cookie base doesn't have to be sweetened at all, as the lemon topping will be sweetened.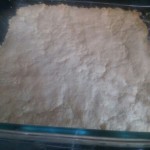 Press dough into an 8 x 8 inch baking dish that has been lined with parchment paper. Bake at 350° for 20 minutes. While it bakes, make your lemon topping.
* In summer my coconut oil is already melty, but winter, spring and fall in Colorado means rock-hard coconut oil. My preferred method of melting it, entails bringing a small pot of water to a boil and taking the pot off the heat source. Then I scoop some of my coconut oil from its ginormous container into a small glass jar and place the jar in the hot water. The hot water should not cover the jar for risk of water leaking-in. Let it sit until it melts. Okay, so this may be the Zen way as it is time consuming and could be meditative in its own way and sure there are faster ways of doing it, but this is my method—you do what you want!
Lemon Topping: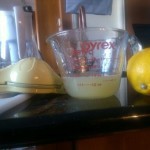 ~1/2 cup freshly squeezed Meyer lemon juice (~3-6 lemons depending on size—I used 2 large lemons and 1 1/2 small lemons to get this amount) and zest (if organic)
4 eggs
4 teaspoons arrowroot starch
1/4 teaspoon sea salt
3 tablespoons coconut oil, melted
SUGAR OPTIONS: 3 tablespoons honey and 1 dropper of vanilla stevia OR 2 droppers of orange stevia and 2 teaspoons of vanilla extract
Bringing all ingredients to room temperature will prevent the coconut oil from re-solidifying before you are ready for it to do that! In a blender or food processor, blend completely all ingredients except for the arrowroot and coconut oil. Next slowly pour in the coconut oil as it is blending/processing and once completely blended, add the arrowroot starch.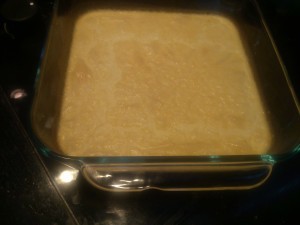 Once the crust comes out of the oven, lower the temperature of the oven to 300ºF. Pour the lemon topping over thehot or warm crust and bake for 25 minutes or just until the filling is no longer jiggling and is barely set. Jiggle the pan to test, do not touch it or it will create an indentation in your beautiful flat bars!
Remove the bars from the oven and let them cool completely (I know it's hard, but otherwise they will fall apart!). Refrigerate. Once entirely cool, carefully lift out the bars by grasping the parchment paper. Cut the bars into squares or rectangles—16 assumes smaller bars. Put remaining bars in air-tight container and refrigerate (or freeze).
Optionally, Add shredded coconut or sift powdered coconut sugar over the top before serving and after cool.
If you are interested in learning to cook without recipes and honing your creativity in the kitchen, please join me in Denver for one or more of my cooking classes.